I'm really not a big self-quantification nerd.
I don't like to be plugged into stuff all day long. It just makes me feel like a giant robot (and being constantly plugged into things like bluetooth devices just gives me the tin-foil hat wearing heebie-jeebies).
But I do religiously take one simple measurement every single morning: heart rate variability.
And the method that I use to measure heart rate variability is, in my opinion, the singe, next big trend in biohacking and self-quantification. It's called SweetBeatLife, and all you need to use it is the SweetBeatLife phone app.
In today's audio interview, I speak with Ronda Collier, who has more than 25 years of experience in high technology product development with a proven track record of delivering leading edge consumer electronic products. The previous two heart rate variability podcasts with Ronda (that I'd recommend you listen to before you listen to today's podcast if you don't know much about heart rate variability) are below:
–Everything You Need To Know About Heart Rate Variability Testing
–The Do-It-Yourself Guide To Using Heart Rate Variability Testing to Track Your Stress and Nervous System Health
By analyzing HRV and Stress along with additional data, SweetBeatLife provides a deep dive into health and provides insight into what activities you engage in that effect the health metrics you care about. This is important because the next big trend in bio-hacking is understanding the relationships between different metrics like your weight, your blood pressure, your blood glucose, the number of steps you take and your actual internal health and nervous system. SweetBeatLife integrates and correlates data from popular fitness platforms like MapMyFitness, Fitbit and Withings and integrates seamlessly with the extensive biometrics from the new HealthPatch sensor (which we talk about in the podcast).
The SweetBeatLife features that we discuss in the podcast include: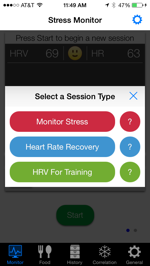 Monitor/Relax: The Monitor screen allows users to choose which feature they would like to use (Stress Monitoring, HRV for Training, Heart Rate Recovery). After starting a session, the user's metrics will fill this screen: heart rate, HRV, stress level, current mood.
---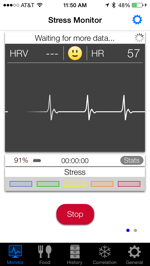 EKG (RRs): The EKG-like heart beat trace is the first window on the Monitor screen. By flipping this window around, the user can see several other real-time features.
---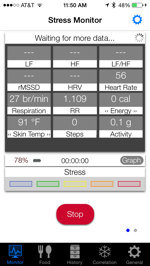 NEW Stats: The stats screen, more widely referred to as the "geek" screen, shows all the metrics used in the algorithm calculations and then some! If using the HealthPatch, the user will get to monitor their respiration, energy, skin temperature, steps and activity.
---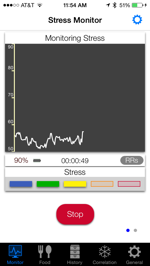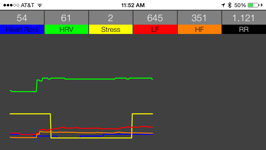 NEW Graph: The graph screen shows a real-time building graph of your heart rate from RR Intervals. Turning the phone 90 degrees counter-clockwise will bring up the graph in landscape. Unselecting RR in the top right corner will allow the user to see all of the other metrics in real-time.
---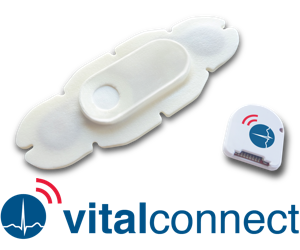 NEW HealthPatch: The HealthPatch by VitalConnect, uses SweetBeatLife's software to record the following data in real-time: heart rate, respiration, calories out, skin temperature, steps and activity. This is the future of noninvasive monitoring.
---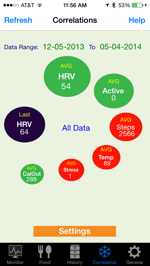 NEW Correlation: The correlation screen uses a patent pending algorithm to correlate all of the Fitbit data the user has shared with SweetBeatLife. This data will come from the app itself, the HealthPatch and any other apps the user has authorized (Fitbit, Withings, and/or MapMyFitness). Settings allow the user to view demos or analyze the correlations between their own data. The user chooses which metric they want to correlate to the others (HRV, stress, or weight). They can choose to see all of their data or put in specific date ranges. By doing this, the user can see their current, max, and min metric compared to their other data. Touching the bubbles flips them for more data.
---
HRV for Training: In competitive sports, improved performance is achieved by alternating periods of intensive training with periods of relative rest. SweetBeatLife uses patent pending algorithms to create a personalized reference line for the user based on 3-minute daily HRV readings. Using the reference line, the app recommends the user "train as usual", have a "low exertion day", or take a "rest day".
---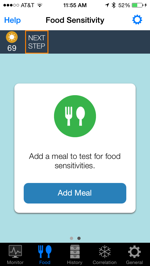 Food Sensitivity Test: To use the food sensitivity test, a user must first take a morning reading of the pulse to establish a baseline for the day. Before eating a meal, the user records the foods comprising the next meal and performs a pulse test. After the user is finished eating, the app will prompt users to record their heart rates every 30 minutes until 90 minutes have passed. Once testing is complete, the meal will either pass or fail for food sensitivity. The Food Sensitivity test methodology developed by immunologist Dr. Arthur F. Coca can be found on the web.
---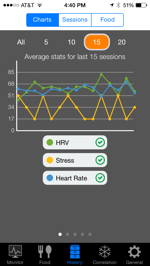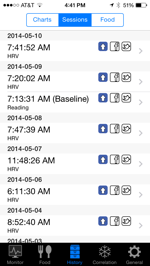 History: Accessing saved sessions is easier than ever. The history is split into three sections: charts, sessions, and food. Now users can separate their food sensitivity tests from the rest of their sessions. By selecting a saved session, the user can view their metrics in a graph, upload to MySweetbeat, Facebook or Twitter, and new capabilities now allow users to send their RR intervals in a CSV file to any email address. .
---
Grab the SweetBeatLife phone app by clicking here, visit the SweetBeatLife website here, and leave any questions, comments or feedback below! Either Ronda or I will answer and point you in the right direction.
Take the hassle out of health with my complete nutrition guide, exact daily routines, and 12-week detox program. Sign up now for instant access!